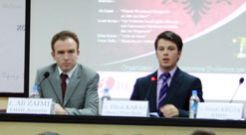 The Research Centre for Islamic Sciences, in cooperation with the Albanian Muslim Community organized a symposium upon the role of Islam in the realization of independence and consolidation of the state. Lecturers of the Department of Islamic Sciences and KMSH representatives referred to various topics related to the role of Muslims in the Declaration of Independence of Albania.
Lecturers of Islamic Sciences Veton Tulla and Alton Karaj referred to the importance that Islam gives to patriotism and the concept of freedom in Islam. While chancellor of Muslim Community in Albania Mr.Ali Zaimi noted that the contribution of Muslims in the national cause is directly related to being a devotee and those who donated us this country were undoubtedly believers familiar with the culture, traditions, rituals and Islamic morality.
"In 1900 Albanian regions consisted of a 90% Muslim population and their contribution in preparing, strengthening and consolidating national consciousness is indispensable and undeniable. Any venture would have been impossible without their help. A well-known fact from history is that out of 40 signatories of independence 27 were Muslims and more than 2/3 of 63 delegates were Muslims. While they all had education and deep knowledge of Islam, some were genuine clerics ", said Mr. Zaimi.
Historical documents show that Albania had over 1600 mosques, which along with their primary function were used for gatherings, meetings and assemblies of a socio-national character, among which we can mention the League of Prizren , which was held in Bajrakli mosque.
Some of the most prominent names of Islamic culture which contributed to the faith and nation and which were mentioned in the symposium were: H. Vehbi Dibra (Agolli), Hafiz Ali Korça, Sheh Ibrahim Karbunara, Hoxha Kadri Prishtina, Ymer Haxhi Prizreni, Ferit Vokopola, Xhemal Naipi, Hafiz Ibrahim Dalliu, Ismail Efendi Ndroqi, Said Najdeni, Zyber Halluli, Daut Boriçi, etc.