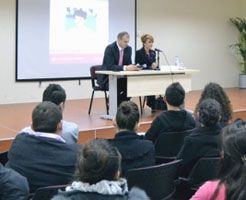 Challenges of women in politics and media, problematic issues that appear in the Albanian society and their possible solutions were some of the points of discussion in the open lecture held by the Department of Communication Sciences with the participation of the journalist, Ilva Tare.
The well-known journalist and the director of "To Night" program on the "Ora News" Television Ilva Tare, was invited into a conversation with the students of the Department of Communication Sciences at the Hëna e Plotë (BEDËR) University. Mrs. Tare, referred to the students on the topic "Challenges of Women in Media and Politics," focusing on the reality presented by Albanian society
Illustrating the conversation with examples from her career in journalism, she expressed that Albanian woman has all the necessary potentials to give her contributions in all spheres of the society. According to her, the positive discrimination of the Albanian legislation has not brought a more qualitative engagement of women in politics and other fields. In this regard, the journalist Ilva Tare said that women should compete with men on the bases of their skills and their professional capabilities and not be in a certain position only due to advantages offered by laws.
Responding to students' interest about the position of women in media, Mrs. Tare expressed that the situation in this area is no exception from the general reality where the masculine origin of the society, becomes a barrier for the women who want to make their career.